November 13, 2019
Razor Clams,
Posted by: David Campiche, Owner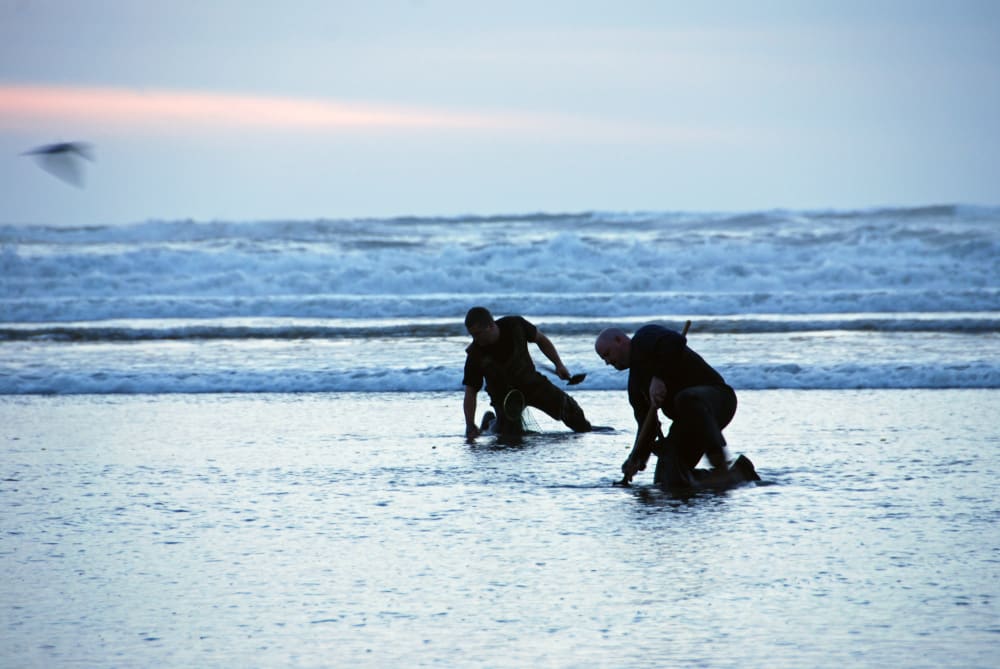 To my hunter-gatherer mind, oysters are synonymous with good health and fertility. For thousands of years, the Chinook people gathered and devoured the bivalves, harvesting judiciously, not only the oysters, but the red-backed crab and razor clams from the beaches on the west side of the 28-mile sand spit we call the Long Beach Peninsula. Over eons the Native People had learned a significant lesson: Help yourself, but don't take too much. When harsh weather charged in each winter, they would huddle inside their cedar plank longhouses and eat by the open fire.
On the east side of Willapa Bay, near the present village of Nahcotta, is a public harvesting area. The limit is 18 oysters. The mud is thick and cloying, but it doesn't get in the way of a pleasant adventure. Dungeness crab litter the bottom of Willapa Bay, and razor clam season is open intermittently from September until June.
Here on the Long Beach Peninsula, we are the recipients of this bountiful harvest. Like the First Peoples before us, we can eat and harvest and laugh among friends. The beaches are ablaze with the colors of pink sunsets, saffron yellow and silvery blue. A day at the ocean is indeed a good day. There's no denying it, work is involved. But when you've dug your limit of clams, cleaned and cooked them, you experience the satisfaction of a successful hunter-gatherer. We invite you to share in this movable feast.
Here's a link to our local visitors bureau website and information on upcoming razor clam digging dates and more:
Winter Razor Clam Digging on the Long Beach Peninsula
China Beach Retreat Innkeeper, David Campiche enjoys sharing the joy of a clam dig with guests. Pick a potential clam digging date that works for you and give us a call if you'd like to schedule a Razor Clam Dig with David. You may call us directly at this number and we'll give you all the details:
(360) 777 3312